Secret Access
Sometimes referred to as parental control software, spy software can monitor and record PC and online activities of your child in system background. More actively, it may filter contents or block offensive websites from being accessed. Computer spy software runs in complete stealth mode, so it's invisible to others. It works like a personal detective that investigates someone using the computer, collects important data and makes it easy for you to find out the truth.
Invisible & Undetectable Spy Software
Spy software contains no icons, program groups or any other mention of the program. It allows you to access the logs remotely via email or ftp, or open the spy software's control panel directly on the monitored computer by pressing a set of secret keys together. Have you ever wondered what your spouse, kids or employees have been doing on the computer and Internet? Is your spouse engaging in online sexual conversation while you are asleep?
Are your kids taking secret chat conversations with an adult stranger? Are your employees emailing your business secret to your competitors? You suspect something disturbing is going on behind your back.
How to Install Realtime-Spy - Remote PC Spy Software (Monitor Your PC from Anywhere)
Or maybe you know something is going on, but you are not sure of all the details. You want the full story, and you know one way to get it. You could spy. Is there any reason not to spy on other people as necessary to get the facts straight, especially if you can put the facts you uncover to good use? To protect your under-age children, protect your family or company, you need a keylogger software, or a spy software. Read more Use spy software to protect your children's online safety, stop them from sexting, communicating with online predators, or visiting inappropriate web sites.
Also track children's offline risky behaviors: smoking, bad eating habits, alcohol or drug abuse, suicidal behavior, self-injury, crime, violence, teen-age pregnancy, running away from home. These behaviors may also appear in children's online chats, IMs, keystrokes or emails and can be tracked by spy software. Use computer spy software to track what your employees are really doing during work hours.
Monitor and check if they are punctual for work, if they are shrinking work hours or dealing with personal matters in office. Spy software can also be used to testify employees' loyalty, detect their dissatisfaction to make proper retention methods in advance to prevent outstanding staff turnover and business secrets leaking. Use spy software to protect your marriage, relationship and yourself. Find out if your spouse is cheating on you as early as possible to make a decision to save the marriage or get a divorce to protect yourself.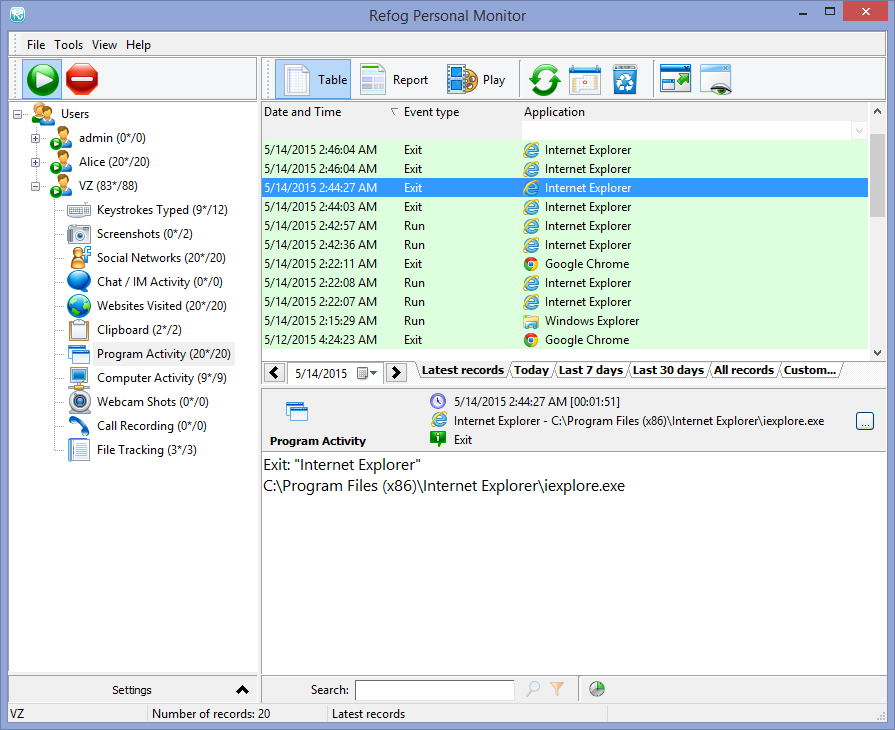 Collect evidence that can be used for your divorce case. Do you have any specific problems with installing spy software and especially knowing how to go about it? The following paragraphs will explain to you how to set it up remotely free of charge and very easily, to be able to spy on a PC remotely without permission. Of course, if you wish to be able to monitor a computer remotely and secretly with even more functions, you can buy the full version of the software. If you were wondering how to go about the easy, detailed installation of free spy software, then you've come to the right place.
Continue reading below.
How to install a free spy software program for PC? Here is a summary of the steps for installing the spy software.
Windows Monitoring Software – Remotely Spy on Windows OS Desktop and Laptops
Download the free software from the product page. Then choose either to use the free version or to buy the paying version, which is at a truly affordable price. Then you simply copy the Client. The software will start to run discreetly and will immediately begin recording the activity on the computer. You will also be able to see the current activity on the PC in real time!
The following explanatory steps will give you a quick overview of the activity display in the software interface, and also in the control interface for a remote computer.
Use a spy software free of charge, with no scam There are recurring questions you may ask yourself about the FIREWORD Controller software, like for example whether it really does enable you to do everything it claims, because there are a lot of spy programs that are scams. The answer is yes, it enables you to do what it says.
Simply download it from your browser, and follow the instructions to be able to spy on a computer invisibly , in real time, completely free of charge, of course.